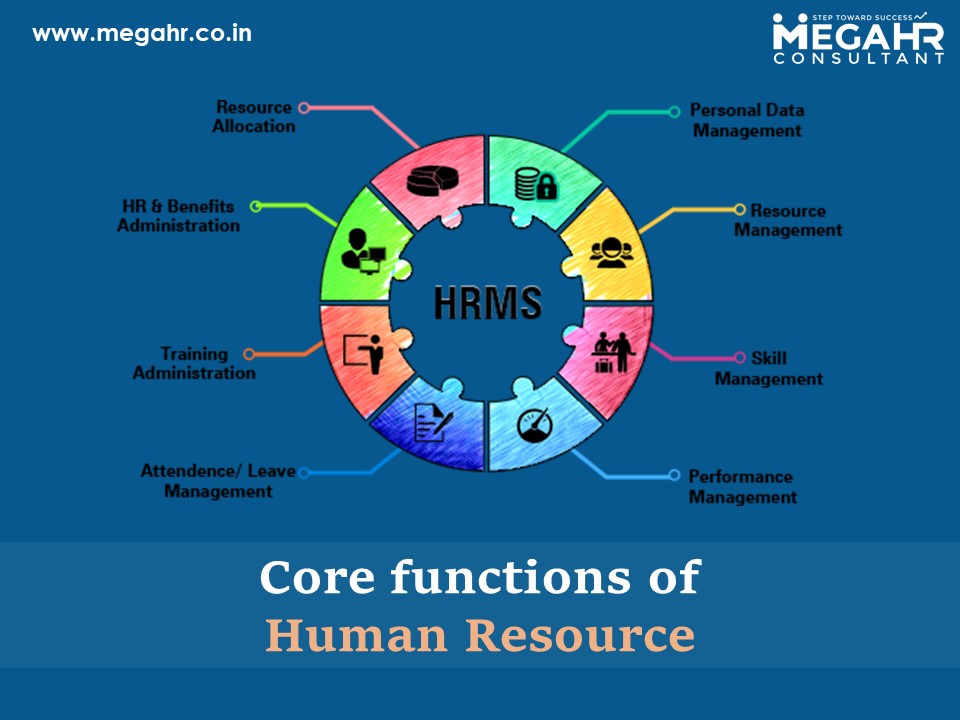 The ultimate objective of human resource management involves integrating all programs and policies related to the business of managing employees within the framework of a firm's strategy.
Each firm varies in its approaches and processes as well as its functional areas. Still, all HR policies and programs more or less consistent and are integrated into a broader HR framework.
Typically, the main responsibilities of the human resource department are to deal with the entry and exit process of employees, development and growth management, reward and disciplinary practices, legal compliance, and strategic initiatives. A significant portion of company leadership and identity can be attributed to the power of HR management strategies.
Below, we're discussing core functions of any given company that are managed by the human resources department:
Recruitment and selection:
It takes time and planning to attract and recruit highly talented employees. In addition, scheduling interviews, screening and communicating with a large pool of candidates, the HR team must also make sure individuals are a good fit for the company and the team. It is the HR's responsibility that during the entire process, from advertisement to the selection, the applicants and the candidates are treated fairly and within the precepts of all applicable laws. It is imperative that the tests and interviews during the process only assess the ability of the individual to perform the requirements of the job based on the criteria set beforehand.
Team Building:
Team building efforts derive their significance from their ability to build trust, reduce conflict and increase open communication and collaboration. It can also be a great way to address the disengagement employees may feel from their organization. Team building can strengthen the corporate culture and help create efficiency in an organization.
As employees feel united around a common purpose, they generate greater productivity. Not only can it provide HR insight into how employees perform together as a team but also help set tasks with company objectives in mind.
Leadership Strategy and Development:
Given the importance of leadership strategy, HR professionals need to consider some competencies when selecting and developing leaders. Through looking at the individual's skills and competencies and comparing them to those expected of a leader, HR professionals can map out the development areas and what is further needed for the selected individual's success in a leadership role. This method can help organizations make better-informed decisions in the process of hiring, developing and promoting leaders.
Performance Management:
Performance appraisals are important not only because they allow you to track performance over time, but they also can help identify areas for performance improvement and opportunities for growth. Although the review itself will likely be carried out by a manager and employee, the HR team is often responsible for tabulating and verify the results and taking or suggesting corrective action when required. The review process doesn't have to be all doom and gloom: you can incorporate a second dimension of performance, like potential, to highlight where employees could set stretch goals to improve in the future.
Succession Planning:
Even the greatest companies to work for have turnover, but the best ones monitor and predict it both to intervene and keep talent but also to make sure vital roles are always filled. As a key player in choosing employees for advancement and management positions, Human Resources should take into account not just performance but also reputation, feedback and leadership skills. This ongoing process links to recruitment as well, as the team should plan and be aware of current and future staff demand.
Compensation and Benefits:
While you might associate these two with the recruitment process, compensation and benefits should also be reviewed and update based on promotions, change in roles and other factors. Understanding what competitors and understanding the demand in the market is crucial to offering competitive incentives to maintain employees. Additionally, the HR department is often involved in evaluating and setting up perks programs that recognizes and reward employees for doing exemplary work. Sometimes small, intangible or personal gestures are as effective as monetary compensation.
Motivation and rewards :
Rewarding employees fall in the HR's area of responsibility, a task with heavy implications provided that an unmotivated workforce can disrupt the organization's efficacy due to lack of focus and undesirable results. Thus, rewards system holds a great magnitude of power in the eye of the managers with the understanding that this system highly influences employee behaviour and productivity.
Compliance and Legal:
Depending on your place of business, there are likely labor laws or other regulations that define the relationship between employer and employee. The HR team must understand these legal matters to ensure the company and the employee are protected. This may include, but is not limited to employee contracts, payroll legislation, regular leave calculations, and government and tax reporting.
HR works as a mediator between fellow employees, managers and executive leadership to settle disputes, disseminate information and provide advice, the role that HR plays is very important and can have measurable impacts on company performance. To manage this large workload, many organizations begin to use a Human Resource Information System, to track and document employee details.